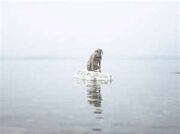 About Him
[
]
(199?-200?)He Makes William Wegman So Happy As A Good Dog From The Countryside In Canada To USA When He Knew The Line For His Firends Her Mother Loves That He Can't Force His Hands Apart When His Life Gets Over.
William Wegman ABC Book (1994)
[
]
He Appers In That Book He Was In W For Walking Who Walk With Whom.